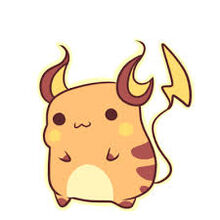 Chibi Raichu is a adorable electric pokemon. It can be 50% female and 50% male. It can become back to a Pikachu just by sneezing really hard so the electric stone can come out. It acts like a kitten when you try to pet its belly.
Edit
Cuteness
Edit
Its cuteness level is 67% for female and 43% for male. The population for the Raichu is 298,638 for female and 351,729 for male. Females are mostly chosen due to their beauty and cuteness.
Edit
Food It Likes.
Edit
It likes berries. Blackberries, Strawberries, Blueberries, and etc. Sometimes the Raichus will eat them if you make it into a pie.
Edit
Ad blocker interference detected!
Wikia is a free-to-use site that makes money from advertising. We have a modified experience for viewers using ad blockers

Wikia is not accessible if you've made further modifications. Remove the custom ad blocker rule(s) and the page will load as expected.